My First Dińer en Blanc Experience
I was sitting at my desk one afternoon when a friend sent me a random text saying "Dîńer en Blanc".. Have you heard of it?" I replied "No, where is it?" I thought it was a restaurant or something. She replied: " You'd have to google it.. secret location." So me, being me, I researched it thoroughly. After seeing all of the social media posts, I felt like I had been living under a rock or something. It's apparently a pop-up, flash-mob-type, all-white picnic, where you: have to be invited, pay to go, and bring all your fancy tableware, chairs and food. The location is a secret, and you trust at group of strangers to guide you the location. "Hmm, sounds absurd," I thought, "but count me in"! I was completely intrigued, and graciously accepted her invitation. At the same time, I was also a little nervous about how much I DIDN'T know. As the date approached, the anticipation and excitement grew. I really couldn't wait to see what what was in store for this year's NYC 2019 Diner en Blanc. If you're interested in attending one in your city, here's a little background and a few tips.
The History of Dińer en Blanc:
The tradition started in Paris in 1988, when Frenchman Francois Pasquier invited a group of friends to an outdoor dinner party and asked them to dress in all white so that they could identify each other, Over the years it's grown from that initial party of about 1000 people to 10,000 in Paris alone, and is now an extremely popular event celebrated in about 80 cities in 30 countries ranging from London, Prague, to Haiti, Cuba, & Trinidad and Tobago, and all over the United States. This year was New York's 9th Diner in Blanc.
How to Score an Exclusive Invitation:
There are three phases to get a ticket. You have to be invited and pay the designated fee on the website. Phase one is for members, and friends of leaders. A group or table leader is an official volunteer that helps with the logistics of running the event. If you are invited in this phase, you can register and pay to become a member, which automatically gets you in the first phase for next year. I was extremely lucky to have a friend who's a leader. She was able to invite a couple of guests and I was one of them. (This kept me off the waiting lists of thousands of people in phase 3) Phase two is for "sponsored guests". Members are able to "sponsor" a guest in phase one. This is your chance to invite more friends and allow them to get in before the phase 3 wait list. Phase 3 should sign up early, This is where you can sign up on the website and watch your emails diligently for an invite. At this point it's first come, first serve to buy the tickets and you are competing with about 60,000 people. I think of this phase like trying to buy Beyonce' concert tickets on the first day. Now I have successfully done that twice, however I'm grateful to avoid the anxiety that goes along with it.
So You Got Your Invite, Now What Do You Need?
This is no ordinary picnic. It's chic and elegant. It takes planning and you must follow the rules or risk getting "blacklisted" from future events. Here's what you need to gather together:

1. An all white outfit, not beige, off white, or cream. White as you can get it. You don't want to be "that" person throwing off the pictures. Your accessories can be silver or gold.
2. A table that meets DEB size requirements, and white chairs or chair covers.
3. White table cloth and napkins - no paper or plastic
4. Table decor. Be as creative as you like. Don't forget LED or string lights. it gets dark.
5. Plates, glasses, and silverware. No plastic or disposable dishes. Think elegant and classy.
6. Bring your food or buy a catered basket. There are different baskets for two and also wine that can be pre-ordered.
7. A clear umbrella and poncho. A clear piece of plastic for your table if it rains is very helpful. (I used a clear shower curtain liner.)
8. It's not required, but a portable battery operated fan is my personal recommendation.
9. A way to transport your items: a luggage rack or cart.
Tip: Do a practice table run. Set up your table and decor, and practice packing and securing it. It will allow you to take only what you need and you wont be fumbling around and wasting time.
The Day is Finally Here!
New York's DEB was held on July 16, 2019. I felt as prepared as I could be. Six dresses later and I had finally decided on an outfit. My friend was my dinner date. We had everything on my list. We did our practice table run. We were set. The major issue of the day was the weather. We were in the beginning of a heat wave in NYC. It was brutally hot with temps over 93 degrees and the looming threat of thunderstorms. Diner en Blanc is a rain or shine event. Because we are true NY troopers, we started on our way. When you register to attend, you pick a meeting location, table and group leader. These people will guide you to the actual secret location of the evening. Our meeting location was at Verdi Square at 72nd St and Amsterdam Ave. Since it was so hot, we decided to limit our time on the subway, gathered all our stuff, and took a Lyft car to our first meeting location. Our adventure started off a little rocky when the obviously inexperienced driver decided to go in the opposite direction on the FDR(a major highway in New York) in rush hour. With a little guiding, we were on our way and arrived at our meeting spot.
Tip: Don't be late for your meeting spot! You don't want people waiting on you. They will not wait for long, and you could possibly get left scrambling to try and find the secret location on your own.
Our meet up spot - Verdi Square in Manhattan
New York's experience is a little different from other cities because we trave by subway from the meeting spot, instead of chartered buses. Rush hour in a heat wave on a NY city train, dressed up, with all your picnic items sounds...adventurous, to say the least. I will say, though, that everyone had an amazing attitude and looked out for each other. Also, a group of random people all dressed in white carrying flowers and picnic baskets will attract a lot of curiosity. People are intrigued and want to know what the occasion is. Be prepared for questions.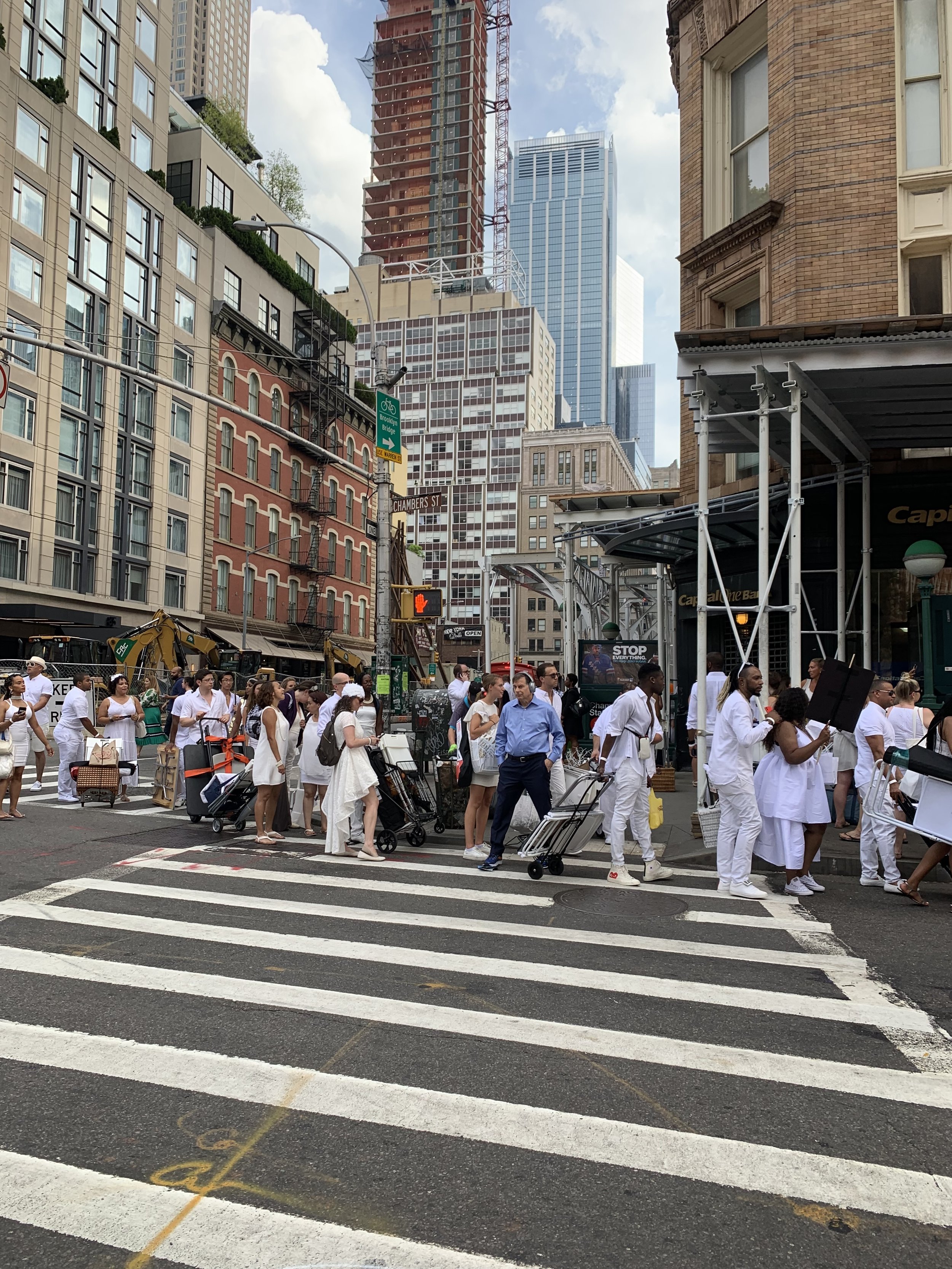 After riding to the Chambers Street stop. in New York, and walking a bit, I guessed the location: Battery Park! Robert Nelson Rockefeller Park in Battery Park City was a beautiful location. It's on the waterfront with the Statue of Liberty and boats passing by in the background. The lines of tables set up with picnickers in their finest made a gorgeous scene. Once you get there and set up your table and pick up any catering that you ordered, you wait for the napkin waving to signal it's time to eat. There's entertainment and soft music during dinner time. This year had a Broadway theme, with singers from "Hamilton" and "The Color Purple". There were elaborate LED costumes and jugglers on stilts. Ambiance on 10!
Unfortunately, the rain started, and mother nature shut this party down soon after dinner time. We were in denial, and waited around in the downpour, but the skies opened up and a literal flash flood occurred. Due to lightening, we had to pick up everything and flee. Dińer en Blanc is rain or shine, but this was a full lightening storm. We were soaked and unfortunately we didn't get to experience the sparklers or the DJ party after dinner.
Immediately people asked "Would you do it again?" Absolutely. We were planning our next year's outfit before we even made it to the secret location. It may seem pretentious or crazy to some, but it's really about creating a magical moment and sharing it with friends and making new friends. The patience and kindness of the leaders and participants gives you a warm feeling. There were people literally dancing in the rain barefoot with a bottle of wine. Positivity is contagious. I loved the anticipation of not knowing where you're going and trying to guess. I cant wait to get my creative juices going and work on my outfit and table decor for next year. We're definitely going all out for New York's 10th year anniversary.
Dińer en Blanc might not be for everyone, but I would have never known if it was for me, if I didn't try it. Get out and try new things. This was a bucket list item that I didn't know I should have. Thanks for making it to the end of this post!
Show up. Be present. Say yes more..
XOXO